Oakville is considered to be a safe city.
But there are crimes happening every day, and if you're not careful, you can become a victim.
(and risk your life or the life of your loved ones.)
That's why you must be aware of what's going on around you and what parts of the city to avoid. In this post, you'll discover the most critical Oakville crime statistics and insights from our Oakville private investigators who have first-hand experience.
They will help you stay safe and keep your family and friends out of trouble.
Table of contents
Oakville Crime Map
Oakville crime map will help you see what's going on in your neighbourhood.
You can see the police calls in different areas of Oakville, as well as individual crimes with a description, categories, and dates.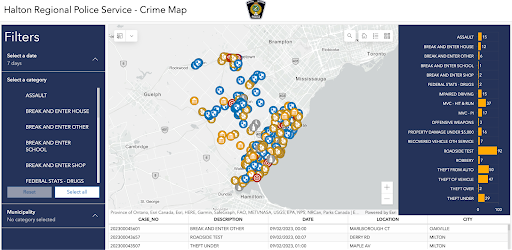 You can also filter the crime map for a specific date range, which can be super helpful, especially if you want to:
Move-in – find out what's the safest part of the city
Stay safe – see where most crimes happen and avoid these places.
Predict the future – spot the crime trends and identify how they evolve
If safety is your #1 priority, you must check the Oakville crime map now.
Oakville Crime Statistics
In this section, you'll discover the most insane crime statistics in Oakville, Ontario.
They will help you find out how safe your city is, what to look out for, and how effective the police are when you need them.
Violent Crime
Violent crimes are the worst, including things like murder, rape, assault, and robbery.
Here are a few important violent crime numbers to remember.
Assault and Sexual Assault
As you can see, there are a lot of assaults and sexual assaults going on in Oakville.
Therefore make sure you are very cautious, especially when going through dark alleys. Don't have a lot of money on you, and be prepared to defend yourself.
(sign up for self-defence classes if you can.)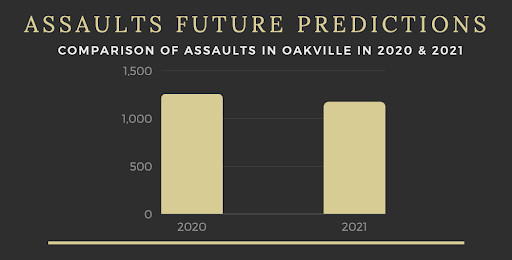 As you can see, the number of assaults will probably stay the same in the future. Which means you must find a way to defend yourself.
But what about the other future predictions?
If we look at the years 2020 and 2021, we can see a downward trend, which means that police are doing a great job of eliminating these crimes.
And they also happen way less than they used to.
Homicide and Attempted Murder in Oakville
In fact, homicides and attempted murders dropped by 51% – which is a significant drop.
The city is getting safer and violent crimes are happening less.
Non-Violent Crimes
Non-violent crimes are thefts, break-ins, frauds, and road collisions.
They are less dangerous but can still be very inconvenient. Let's now look at some of the most critical non-violent crime statistics in Oakville.
Property Crimes
Property crimes are offences like burglary, larceny-theft, motor vehicle theft, and arson.
Here are a few important property crime numbers to look at.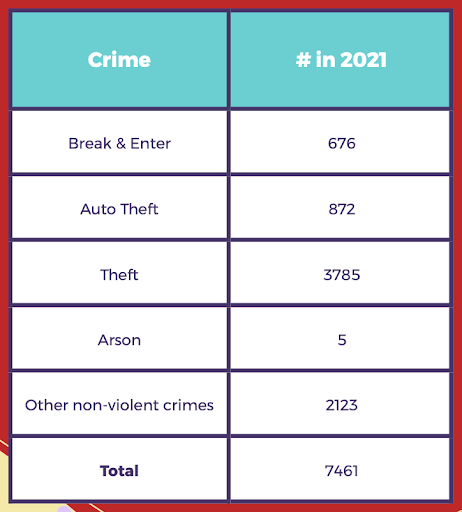 As you can see, there are happening a lot of non-violent crimes in Ontario. Just for 2021, there were over 7.4k non-violent crimes.
And most of them were thefts, so look out for your belongings – or they get stolen.
What's even worse, unlike violent crimes, there is an increasing trend suggesting there will be more crimes like this in the future.
If we look at the crime map, most of these crimes happen in the center and northern part of Oakville.
So be extra cautious in these areas to stay safe and prevent getting robbed. This is especially true if you have a business in these areas.
If that's the case, have security cameras or opt-in for insurance to cover the risk.
Road Crimes
Road crimes are fatal collisions, injury by a car crash, or property damage by car accidents.
The good news is, there are not a lot of fatal collisions – just seven a year.
That means you are pretty safe when driving around; no need to worry about getting into a serious car crash and losing your life.
Unfortunately, that can't be said about injury collisions.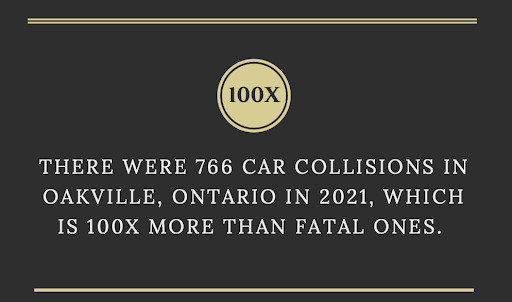 There are almost 100X more injury collisions than fatal ones.
This is mostly because of breaking the speed limits. Therefore, be sure to drive safely and follow the speed limits.
Property damage collisions are disastrous, too – almost 5.5k yearly.
If you still don't have insurance, you better get one before your property gets destroyed.
Other Crimes
Other crimes are somewhere between violent and non-violent crimes.
Some examples of other crimes include kidnapping, drug crimes, and identity theft. It's important to be aware of these crimes too.
(so you can stay safe and know what to look out for.)
Here are a few crime statistics to keep in mind.
As you can see, kidnapping and drug crimes happen a lot compared to most violent and non-violent crimes we've mentioned earlier.
Oakville Safety Statistics to Be Aware of
Crime stats will help you stay safe and don't get into trouble. But do you really have to look over your shoulder all the time, or is Oakville relatively safe?
That's what you are about to discover in this section.
How Safe Is Walking Alone in Oakville?
If we scared you a bit with the crime stats earlier, don't worry, Oakville is not that dangerous.
In fact, the safety of walking alone in daylight is very high.

That's almost the same for walking alone at night.
But that does not mean you should neglect it; we highly suggest staying cautious and being able to defend yourself.
How Does Oakville's Crime Rate Compare to Other Cities?
Oakville is overall a very safe city.
The crime rates in Oakville are 56% lower than the national average (55% for violent crimes.)
The biggest safety benefit is that Oakville is that it's safer than 92% of cities in Canada.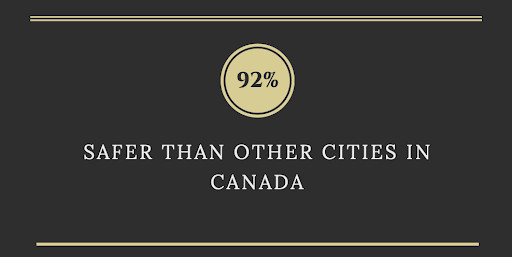 And your chances of becoming a victim of crime are only 1 in 55, which is less than 2%. That's a very small chance.
The people living in Oakville know about this and feel very safe too.
The police are also very reliable, responsive, and come quickly when you need them.
Conclusion
Oakville is a safe neighbourhood, but there are crimes happening daily.
If you want to avoid trouble, you must be aware of the statistics we've talked about today.
They'll help you stay away from dangerous areas and keep you out of trouble. Keep these statistics close to your heart and make your family and friends safe.